($24.95 - Book/CD)
These energetic and creative marimba ensemble pieces will be your students' favorites! Excellent for building technique and that rich, precision ensemble sound. A winner! All pieces are especially suitable for your 6th, 7th and 8th grade general music classes with lesson plans that can be adapted easily for your upper elementary students. See more at www.brentholl.com

---
($19.95 - Book)
Ten new marimba pieces in this book are presented according to their degrees of difficulty. All of the arrangements were inspired by authentic, Shona-style marimba music from Zimbabwe, but each piece with lesson plan has its own unique groove. Three of the pieces were featured in Scott's children's ensemble performance at the AOSA conference in Pittsburgh in 2011. See more at www.scottndavemarimbas.com

---
($24.95 Book/CD)
This exciting new book of ten marimba pieces with lesson plans and included audio CD is a welcome addition to the marimba music repertoire. All are original tunes that Paul developed with his students at Rural Point Elementary School in Hanover County, Virginia. Some of the arrangements were adapted and arranged by Brent Holl. See more at www.paulbakeman.com

---
($19.95 Book)
These pieces are drawn from the contemporary Zimbabwean-style marimba ensemble and encourage the performance of this beautiful and powerful music. The Wooden Voices series aims to provide quality pedagogical marimba works to complement and contrast traditional African marimba repertoire, offering student ensembles experience with different moods, modes, meters and forms. See more at www.woodenvoicesmarimbas.com

---
($34.95 - Book/CD)
Here's a collection of easy pieces for diatonic marimbas, xylophones and other instruments. Each piece has simple and more challenging parts. All pieces have been extensively classroom tested and are suitable for children aged 8 to adults. CD included. More at www.jonmadinmarimbasusa.com

($34.95 - Book/CD)
Marimba Music 2 includes many of the pieces Jon Madin has developed for use in schools in recent years. These pieces are designed to be easy to teach and to be sufficiently catchy and vibrant to keep kids interested. They are accessible to early elementary through middle school. More at www.jonmadinmarimbasusa.com

($34.95 Book/CD)
A collection of songs and pieces of music for diatonic marimbas, xylophones and other instruments by Jon Madin. These songs are suitable for children ages 5-10 (some can easily be adapted for older children too). The songs for the youngest children have actions and only a few notes to find. Includes audio CD. More at www.jonmadinmarimbasusa.com

($44.95 - Book/2 CDs)
This great book for interactive music making. These songs are creative, well performed, and have been enthusiastically received where ever they've been used. Includes 2 professionally produced audio CDs. One CD is performed by Jon and friends, including international children's music star, Franciscus Henri. The second contains only the instrumentals so students can sing along independently. More at www.jonmadinmarimbasusa.com

($29.95 - Book)
This book contains illustrated instructions for making your own marimbas. It includes instructions for these instruments: Box-resonated diatonic marimba for 3 players; Pipe-resonated diatonic marimba for 3 players; Bass marimba for 2 players; Minimarimba. Jon's website contains helpful information and consulting is available from Beatin' Path Publications to help with your marimba making project. More at www.jonmadinmarimbasusa.com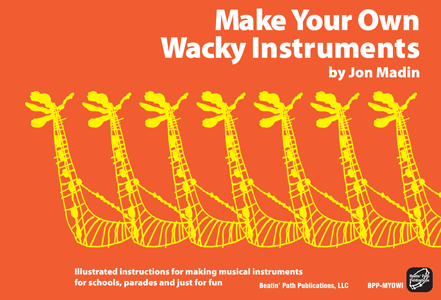 ($29.95 - Book)
Make Your Own Wacky Instruments is a book of illustrated instructions for making musical instruments for schools, parades and just for fun. About 50 instruments are described in detail, ranging from the very popular 'rubber glove bassoons' and easily constructed 'parade J-pipes' to the more technical 'bass multiboing' and 'dingbox'. See more at www.jonmadinmarimbasusa.com

($34.95 - Book/CD ROM )
A brand new book from for Orff Ensemble, this new resource for Orff Ensemble features the ancient modes. Playing and learning in the modes is a great way to promote improvisation and instrument technique in your students. This new book will also be very helpful to Orff Levels teachers looking for great new material to build an appreciation of these ancient scales.
A CD ROM is included with each book, with instructional visuals, full scores, instrument parts, and professionally produced audio recordings of each piece. More at www.inthemodes.net

($29.95 - Book)
This book includes 12 originals and arrangements reflecting authentic New Orleans styles of early jazz music.  From James Booker to the Dixieland Jazz Band, these tunes carry the grooves of New Orleans.  A highlight of the collection is John Boutte's "Treme Song" (arranged by permission) from the HBO series. The tunes are for upper elementary and middle school marimba ensembles and can be played on traditional Orff instruments. More at Steve's Beatin' Path Webpage.